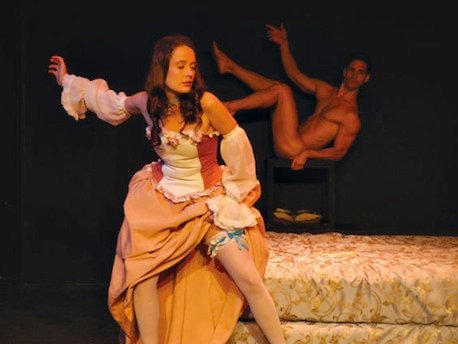 Hollywood Fringe Festival 2013: Our Preview
by Steven Leigh Morris
"Most of the stuff is awful, but it brings an entirely different crowd to the theater," says a local artistic director, referring to the Hollywood Fringe festival, after a festival preview performance. This may not sound like much of an endorsement, but while making the rounds of our annual, compact (200 shows within one square mile) potpourri of stand-up comedy, improv, music, opera, many one-person shows and some ensemble projects from around the world, one indeed will see a different, younger, almost pathologically enthusiastic crowd of theatergoers, compared with the more seasoned faces in the audience that punctuate the offerings of our local troupes the rest of the year. And there's much to be said for an event that opens up theater to enthusiastic attendees of any age, or stripe. This week's theater section is entirely dedicated to Fringe shows, and we'll be reviewing a few more next week, too.
The artistic director is right on his other point as well: With some notable exceptions, the standards at the Fringe are generally not as high as local offerings throughout the year, but neither are the technical resources as stable. There's considerable space-sharing going on — put on a show, send out the audience an hour later, break down the set for the next company, and so on.
The Fringe also has an open-door policy for anybody who wants to put on a show and can afford the comparatively low production costs — compared with staging a show at an established venue. This doesn't count travel expenses for companies roaring in from, say Australia, or the United Kingdom, or Brazil. The latter is home to experimental theater company Os Satyros, which came here to present its stage version of the Marquis de Sade's novel Philosophy in the Boudoir, an offering unlike anything seen here for the past decade.
Os Satyros is an ensemble formed in São Paulo in 1989 by Ivam Cabral and Rodolfo García Vázquez. The latter adapted and directed Philosophy, the third in a trilogy of performances created by the company that are dedicated to the writings of de Sade.
The author of the source material is among the more heralded of pervs, jailed for much of his life in large part because of his philosophy. Anybody so reviled by the authorities of his or her era — 18th-century France — is a source of inevitable curiosity by subsequent generations. In many ways, de Sade was the heir apparent to Machiavelli. Both endorsed the view of unfettered self-interest, but de Sade made it sexual. If Machiavelli's gold standard was political power, de Sade's was sensual pleasure.
The marquis also castigated morality, modesty and decorum in general, and the Catholic Church in particular. Philosophy in the Boudoir is quite simply the story of a woman (Patricia Aguille) and her brother (Luis Lope), libertines who invite a young virgin (Raissa Peniche), reared in a convent, for a two-day visit to their abode for the express purpose of educating her sexually. This education consists of sodomy at first sight, because pain is the pathway to pleasure.
She turns out to be a very willing, bisexual student of debauchery. She not only spurns her own mother (Deborah Graca), who arrives to rescue her, but also participates enthusiastically in their punishing of mum — stripping, raping and further torturing her — who, for most of the young woman's life, led her down a path far too righteous for her newly acquired taste.
In many ways, the production is as unwatchable as the book is unreadable. Its mockery of anything remotely civilized is, like the book, such an affront that it's almost a parody of itself. And yet that affrontery is the very reason the production is so intriguing. It casts no judgment on de Sade — it simply allows him his voice, and his view. The rest is up to us.
Vázquez's production captures visually what the text aims for philosophically. It's a series of sadomasochistic scenes, bathed in carefully focused glows of red and blue light, gleeful violence and graphic sexuality, where no corner of human anatomy is left covered by the period costumes. The performers are as graceful as they are brave, though the decision for them to perform in English — rather than their native Portuguese — is probably a mistake, lending a certain clumsiness to what is otherwise a difficult and delicate venture into the darkest recesses of what make us all human.
Fonte: LA Weekly, 13 de junho de 2013